High School Graduation Party
Graduation Party Planning and Ideas
When planning a high school graduation party, consider these ideas and suggestions that Magic Jump Rentals has taken the liberty to prepare for you. There are a number of graduation party ideas to help you organize and enjoy a successful event.
High School Graduation Party Suggestions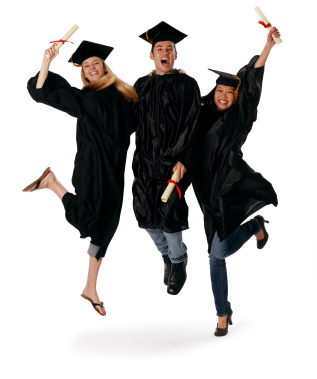 High school graduations are usually accompanied by an overnight grad-night trip to a theme park where you stay up all night walking around, waiting in line for kiddy rides, eating sub-par food and going home miserably tired and cranky. Why put yourself through that when you can host your own graduation party with a full day of fun and good food?
Magic Jump Rentals is here to deliver that to you with a host of high school graduation party tips and ideas. First, consider an outdoor party to host as many of your high school peers as you can. Invite as many classmates as you can for a fun and exciting group to enjoy the day with. You will then need some quality entertainment. Magic Jump Rentals has the answer.
To put together a successful graduation party for a bunch of young adults, you will need an exciting collection of amusements for entertainment. Magic Jump Rentals has a wide collection of inflatable games, from bounce houses, to interactive games and even thrilling extreme inflatables and dunk tanks that will work perfectly.
For food outdoors, nothing is easier and more convenient than a bunch of carnival treats. At Magic Jump Rentals, we offer rentals for hot dog, popcorn, cotton candy and snow cone machines. It does not get easier than this to plan a high school graduation party. You may even split the cost with a number of your fellow graduates; it will surely come out a lot cheaper than grad-night tickets and a whole lot more fun.