Planning A Boy's Birthday Party
Birthday Party Planning and Birthday Ideas
When planning a boy's birthday, consider these ideas and suggestions that Magic Jump Rentals has taken the liberty to prepare for you. There are a number of birthday ideas to help you organize and enjoy a successful event.
Boy's Birthday Party Suggestions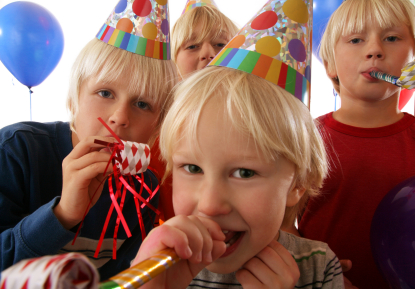 When it comes to planning a birthday party for boys, the first thing you must consider is the guest-list. Keep in mind that for the most part, the guests are going to include many other boys, whether they are his friends or cousins. Rarely will you have young boys inviting many girls to their parties, unless of course they are cousins or the girl at school he has a crush on. In either case, you will have a crowd of rowdy boys with lots of energy to burn at a boy's birthday party. How to keep them under control is a trick Magic Jump Rentals has mastered with its boys party ideas.
Introducing an inflatable game as entertainment at any boy's party is sure to excite the crowd and give them something to keep busy with throughout the party. Magic Jump Rentals delivers inflatables suitable for small or large crowds and for indoor or outdoor parties alike. There are many inflatable attractions that may fit perfectly at a boy's party, whether it is a regular bounce house, inflatable obstacle course or any other amusement in between.
Magic Jump Rentals suggests either inflatables option for smaller boys' parties or a combination of inflatables for larger parties. With weather and event venue permitting, water slides are always a hit with little boys, allowing them to get wet and wild. Though it may not be what you want, trust us, your boys will love you for letting them do so. Bounce houses are great for younger boys, but for the older boys, a combo ride or obstacle course may be more exciting. For larger birthday parties looking for diversity in entertainment, our interactive games work perfectly.
With all this fun and excitement running around, the boys may need to refuel to keep going. The simplicity of concession machines in providing food and treats is unbeatable. With hot dog, popcorn, cotton candy and snow cone machines available, Magic Jump Rentals has everything you may need to complete your little boy's party planning. With food, treats and entertainment taken care of all in one place, you are sure to find it easy to plan any boy's party in the future. Start planning your party by considering our boys' party ideas and reserving your items today!