Refer Your Friends
---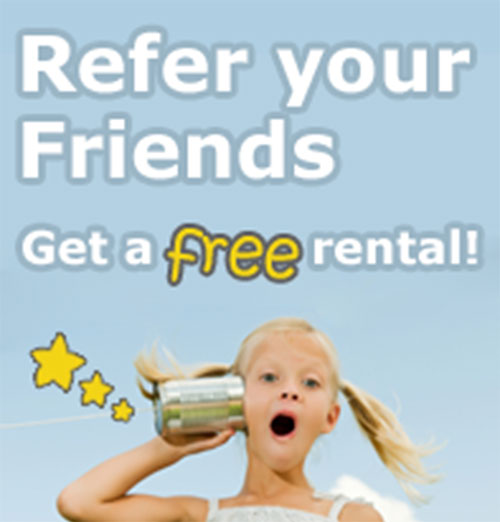 Refer Us To 5 People and Get a FREE Bounce House Rental
We appreciate word of mouth and referrals, therefore we will give you a FREE bounce house rental when you refer us to 5 people. It's simple. Everyone has parties and events throughout the year, just refer them to our company for their party rental needs.
Know of a friend or relative that has an upcoming birthday or event? Refer our company and you will get a chance for a FREE bounce house rental for your next event. Simply use one of the following Share Buttons to email our company information to your friends.
Make sure to tell them to give your name when they call to reserve! We will make a record of it and when you reach 5 referrals, we will notify you of your free rental opportunity. View Terms of Friend Referral Program for more information.
TERMS OF FRIEND REFERRAL PROGRAM
---
REFERRALS
Every time one of your friends that you referred rents from us and provides your name as the referral, we will make a record and count that as one referral. Only one referral allowed per order. The person making the rental must provide referrals name during time of reservation. We will not accept customers giving referral names after the rental date.
ELIGIBILITY
To be eligible, you must create an account with Magic Jump Rentals or have rented a product from us before.
CLAIMING FREE RENTAL
Once you have 5 referrals that have rented from us, you are eligible to claim your free bounce house rental. We keep track of your referrals, but it is recommended to keep track of them yourself as well.
WINNING PRIZE
The program is for a free bounce house rental. The length of the rental is for an 8 hour period. Customer will be allowed to choose from any one of the 13'x13' bounce houses or use the $75 value to upgrade to a bigger product.