Get Out and Play!
---
Rediscovering Playtime
Magic Jump Rentals makes a conscious effort to encourage physical activity and exercise among children. Inflatable games are a great way for children to enjoy healthy activity for entertainment.
A Healthier Alternative to Today's Technological Playtime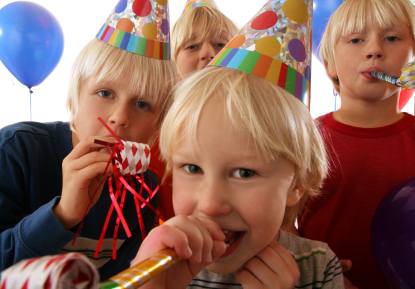 You hear it a lot these days: "Kids just aren't kids anymore"; "Kids don't play like they used to"; or that they simply are growing up too fast these days. All these issues seem to result from the effects of the exponential growth of technology.
Over the years, with the expansion of the internet and computers and the growth of the video game industry, kids have seemingly become isolated into their rooms and in front of a monitor of some sort. You simply do not hear or see much of children playing anymore, whereas in the past it seemed impossible to get kids to come inside after dark.
It seems the only sports many kids grow up playing are produced by Electronic Arts. The recent generations rely too much on devices for entertainment and not enough on each other. It is Magic Jump Rentals' goal to bring this to the attention of parents and children and offer a fun-filled and healthier alternative as a solution to this troubling trend.
It goes without saying that children need continuous physical play on a daily basis to ensure a healthy physical development. It is also believed that physical fitness has an impact on a person's intellectual and social development; therefore, it is very important to encourage healthy physical activity on a daily basis.
In doing its part, MJR will be donating its products and services as a sponsor to the 2010 EdVantExpo in an effort to help promote its message on physical fitness in line with the principles of the EdVantExpo: Educate. Advance. Excel. With proper education, children are able to successfully advance in life and excel in everything they set out to do. Overall fitness as a person is something everyone should recognize the importance of, appreciate and respect enough to apply to their lives.
As a contributor to such a cause, MJR is proud to display its products as a great way for children to enjoy fun-filled physical activity. Sure bouncers are synonymous with birthday parties, but they are in no way only good for annual entertainment and enjoyment. Many families enjoy inflatable games on a regular basis. Some enjoy them every weekend or even every day, whether they are renting it out for themselves, taking the kids to an indoor play center on the weekends, or dropping their kids off daily at a day care that features inflatable games. Bouncers are fun no matter when you play with them.
Children rarely get tired of bouncing around in inflatable games; and especially since MJR offers a variety of inflatables, the fun seems endless. Though it may not seem like it, your children are actually enjoying a quality form of exercise as they bounce around for hours in one of these inflatables. The physical activity involved in playing in bouncers is a fun way to ensure daily exercise for kids.
Magic Jump Rentals looks forward to encouraging children to rediscover playtime in its true form. Enjoying outdoor physical activity with inflatable play structures or in any other form will benefit kids in every aspect of life. Who says you can't have fun as you exercise? Magic Jump Rentals delivers a quality dose of fun and exercise with every inflatable. Be sure to discover the benefits of fitness at the 2010 EdVantExpo with MJR!