Cinco de Mayo
---
Holiday Party Planning and Ideas
When planning a holiday party, consider these ideas and suggestions that Magic Jump Rentals has taken the liberty to prepare for you. There are a number of party ideas to help you organize and enjoy a successful event.
Cinco de Mayo Party Suggestions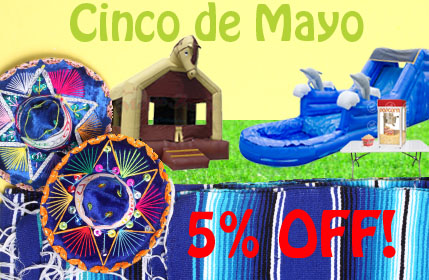 Cinco de Mayo is a commemorative day for Mexican-American's and anyone who remembers the battles that took place at the Battle of Puebla on May 5, 1982. This day is celebrated today with family and friends gathering to remember their heritage and to give toast to those who helped shape history.
Magic Jump Rentals wants to help out with your Cinco de Mayo party planning and party rentals with this informative party planning page. We want to address things like what to have at your party and how to organize it.
Cinco de Mayo is a Mexican style fiesta, so it's a good idea to have a lot of colorful decorations. Incorporating food like chips and dip, tacos, burritos, quesadilla, enchiladas, and more. For beverages it is a good idea to go with Tamarindo, Jamaica, horchata, beer for adults, and some sodas for the kids.
Typically Cinco de Mayo is celebrated at schools and at houses for private parties. For schools it is a good idea to go with larger inflatables like a obstacle course rental to allow all the children to participate together. For smaller house parties, the horse bounce house is a very fitting bouncer rental for Cinco de Mayo.