Planning A Backyard Barbecue
---
Backyard Barbecue Planning and Ideas
When planning a backyard barbecue, consider these ideas and suggestions that Magic Jump Rentals has taken the liberty to prepare for you. There are a number of ideas to help you organize and enjoy a successful event.
Backyard Barbecue Suggestions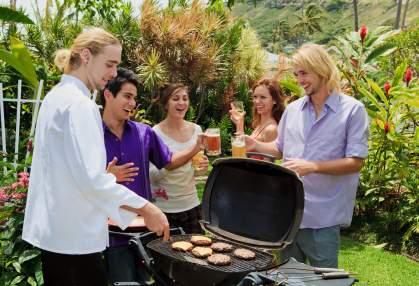 Whether you are hosting a barbecue gathering in your backyard or at a park, you will surely need some entertainment for your guests, especially the younger ones. You can include as many toys as you want, but that may create a mess and even a hazard for your guests. The best option would be to simply call on the services of Magic Jump Rentals. This idea lets you enjoy a whole day's worth of fun without the worry of safety. Inflatable games are highly entertaining for kids and even adults, and are a great way to keep the crowd organized. Plus, with all the physical activity everyone will be enjoying with inflatable games, they will be working up a hefty appetite to appreciate your grilling mastery. There are plenty of games suitable for private backyard barbecues and even larger outdoor gatherings. Also, if all the grilling is going to tire you out too much to serve dessert, cotton candy and snow cone concession machines can take care of that for you. So invite the crowd, fire up the grill, inflate the games and enjoy the barbecue at its best!