Game Day Parties
---
Game Day Party Planning and Ideas
When planning a game day party, consider these ideas and suggestions that Magic Jump Rentals has taken the liberty to prepare for you. There are a number of party ideas to help you organize and enjoy a successful event.
Game Day Party Suggestions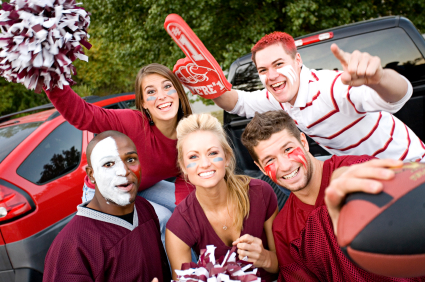 When game-day rolls along, whether it is a regular season game or a heated playoff match-up, excite the party even more with inflatables. These attractions will get everybody talking about how much fun they are going to have after already enjoying the game on an Inflatable Movie Screen.
No matter if it's a basketball, football, soccer or baseball party, Magic Jump Rentals has an attraction to fit the sport. The sports themed bounce houses will be a great way for the kids to have fun while you enjoy the game. Maybe the adults can even join in on the bouncing fun afterwards. With the Sports Shootout, you and your guests can challenge each other at a variety of athletic skills. See who the better quarterback, striker or shooter is amongst you all. Challenge each other in the Boxing Ring or even Joust Arena after a Fight Night spectacle gets you in the mood. Stop bragging about your abilities and show everyone how good you really are!
Also, if you are hosting a party, you cannot go without food. Magic Jump Rentals offers concession machines that make it easy and convenient to serve large crowds. Hot dogs, popcorn, cotton candy and snow cone machines may be added to the menu as additional treats in case you cater from a local service. Serve them all or any combination of each, your guests will be happy to devour what you offer. Keep Magic Jump Rentals in mind the next time a big game is coming up and you want to throw a party, we really know how to kick-off a sports party like no other.