Outdoor Party
---
Outdoor Party Planning and Party Ideas
When planning an outdoor party, consider these ideas and suggestions that Magic Jump Rentals has taken the liberty to prepare for you. There are a number of party ideas to help you organize and enjoy a successful event.
Outdoor Party Suggestions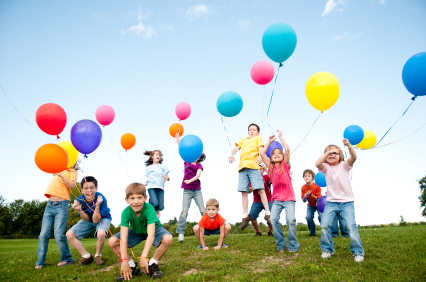 Outdoor parties are great opportunities to enjoy some extra fun that you normally would not be able to indoors. As an immediate advantage, you can invite plenty more guests to an outdoor party. As the saying goes: the more the merrier. So be sure to invite all of your favorite, and even not-so-favorite friends and families. Heck, why not invite the neighbors too.
When deciding on entertainment, do not overlook inflatables. At Magic Jump Rentals, we have an assortment of inflatable games that are sure to add tremendous entertainment value to your outdoor party. And since it is an outdoor party, you can go as big as you want with the inflatables you rent. Rent out our tallest slide, thrill your crowd with the biggest inflatable obstacle course in the industry, give everyone a large bouncy Castle to jump around in; and if weather permits, let everyone get as wet and wild as they can imagine with a giant water slide.
Once outdoors, no one is going to want to settle down into preparing food for everyone when there is so much fun to be had. Instead, consider featuring concession machines that take minimal monitoring to ensure proper service of food and treats to your guests. Everyone is sure to get enough out of the hot dog, cotton candy, popcorn and snow cone machines. Other than this, serving bowls full of chips, pretzels or any other finger food snacks should satisfy the guests. For drinks, pack lots of water as a healthy choice, but be eco-friendly and avoid bottle waters, portable dispensers work just fine. Ensure everyone stays properly hydrated, as they will be enjoying hours of fun-filled physical activity outdoors in the sun.
No matter the occasion, an outdoor party usually allows for a lot more fun and partying. Be sure to consider Magic Jump Rentals in planning your events, there are plenty of ideas to share in planning a successful outdoor party.