Planning A Family Picnic
---
Family Picnic Planning and Ideas
When planning a family picnic, consider these ideas and suggestions that Magic Jump Rentals has taken the liberty to prepare for you. There are a number of ideas to help you organize and enjoy a successful event.
Family Picnic Suggestions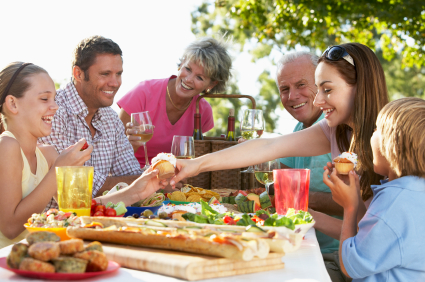 For a fun family picnic outdoors, you will need a few pleasant guests, a hearty picnic basket and of course some fun games to play. Surely you enjoy time outdoors with your family, so step 1 is taken care of automatically. To pack a nice picnic basket, be sure to include a little bit of everyone's favorites: some sandwiches, maybe hot dogs, chips, cookies and maybe even popcorn. If you would like to prepare food at the park, then Magic Jump Rentals can help simplify that for you with its concession machines. Choose from hot dog, popcorn, snow cone or cotton candy machines. Each will surely satisfy plenty.
Now for the fun part! Unless you're on a romantic picnic with your significant other, a family picnic including kids and extended family will definitely need a little more entertainment than just pleasant conversation. For outdoor fun, be sure to bring along a few casual sporting equipment, including: a Frisbee, football and maybe even badminton gear. If the all that is not fun enough for you, then Magic Jump Rentals has the solution. Inflatable games have bounced traditional games to another level of fun. You can enjoy your favorite sports activity and other fun interactive games, water slides, obstacles courses or even simple bounce houses and inflatable slides. The fun will never stop once you invite Magic Jump Rentals to your picnic. Make the best out of each family trip.